Find Your $100k Business Idea In 10 Days And Get The First Clients
To start living your dream life!
Learn how to find your most profitable business idea in 10 days, refine it, validate it, and how to get your first clients! Your success and freedom begin with this course!
What if you could have the freedom you want? What if you could have your own business? (as a side income source or as your primary one.) What if you could afford the things you want to buy? What if you could visit the places you now just dream to see?
It is POSSIBLE.
No matter where you are from, no matter your age, no matter your area of expertise, you CAN have a business. You can become the owner of an international business that helps a lot of people and makes a lot of money or you can be a solopreneur who lives just the way they want.
Does any of this sound familiar?
"I would love to not have to go to the office every day."

"I would like to make more money from my passion."

"It would be so good if I could afford all the things that I want to do."

"I would like more freedom."
Then this course is perfect for you!
I've been working with Loredana for a few years now on how to improve my website traffic and increase my revenue. When we started working together, my travel blog had low traffic and generated some income, but nothing impressive. Loredana's advice and always insightful counsel have helped turn the situation around. For years, I was able to generate more revenue to my blog and create new streams for it. While it wasn't my only revenue source, Loredana helped me triple my income year to year, and then maintain a steady stream without the blog eating up all of my time. With her help, I managed to properly monetize my blog and it led to a successful sale in 2017.
This course IS for you if:
your are constantly thinking of what it would be like to have a business;

you have one or more business ideas but you don't know if they can be profitable;

you would like to have a business, but don't know where to start;

you want to start a spare-time business – yes, this course is great for those who want to start the business in parallel with their current workplace. You don't have to risk it all – you can do everything on your own pace;

your are moms/women who want to start a business while staying at home;

you are a student and you don't know how to find that profitable business idea.
This course is NOT for you if you:
are looking for a "get rich fast" method – while I will share with you the tools and ways to create and advance in your business faster than I did (because I didn't know all of these things, nor did I find a place to learn them from,) this is not a course that will bring you millions within a month.
are not willing to put in the work – you'll get the perfect $100k business idea, but you will need to start your business to actually make the money!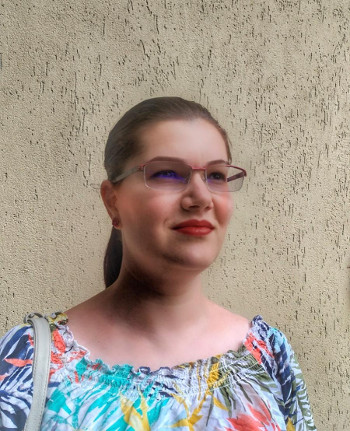 About your instructor:

Violeta-Loredana Pascal
Loredana has 15 years of business experience. 13 years ago she launched her public relations agency in Romania which soon became an agency with clients from Swtizerland, Dubai, Germany, USA, and more. She is also a business coach helping people launch or grow their businesses, overcoming the obstacles that stop them from succeeding and, ultimately, living their dream lives. Passionate about travel and reading, Loredana loves to share her knowledge and believes everyone can succeed.
by the end of the course:
You'll get clarity on your desired income;
You'll learn what types of products/services you can offer;
You'll discover numerous sources to find business ideas;
You'll learn how to test and refine your business ideas;
You'll discover where to find your first clients;
You'll learn what you need to do further to have your successful business.
You'll discover that you CAN do it. You'll learn HOW to do it.
You'll go from zero ideas to many business ideas and then to the $100k business idea.
You'll select the best business idea from all those that are running through your mind right now.You will feel empowered and ready to take the next step, confidently that it is the right move. And you'll know how to take the next step.
It has never been easier to discover your $100k business idea!
[learndash_payment_button course_id="1225″]