When you decide to start a business, often times you have no idea what to do first. And you don't know where you can find the best advice. What if I told you that you can learn precious business lessons from your dog?
Yes, that's right. From your dog. Or other dogs.
And yes, these 15 business lessons included below are things I wish I knew when I launched my business.
So, why looking at dogs for business inspiration?
Because a business isn't something completely abstract. Yes, there is a company you'll launch. And that's an abstract entity. But running a business isn't abstract. It's real. And similar, in more ways than one, to areas of your life you would never think of before.
So here are the 12 business lessons I learned from my dog. I noticed these similarities based on my 16 years of business experience (14 at my own company) so be sure that these are real. And if you want to be a successful business owner, you may want to consider all of the tips included below.
Meet Maxie
To better understand these lessons, you have to meet Maxie first.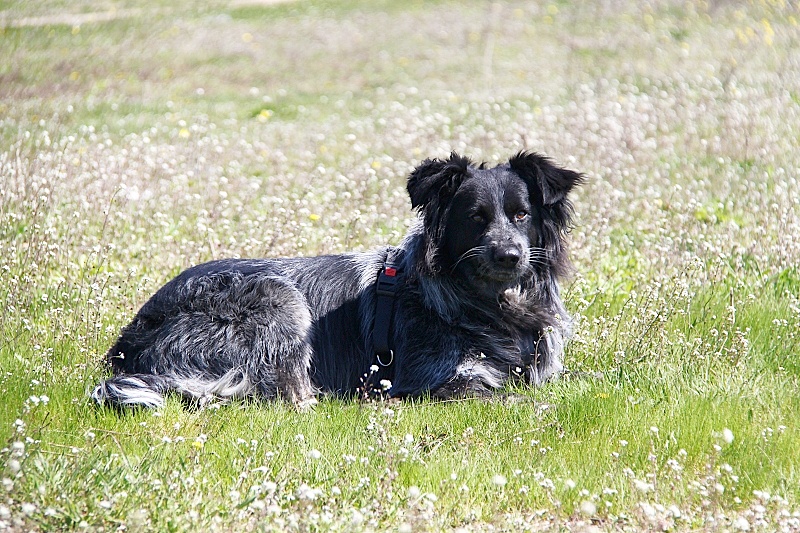 She's a 10-years old dog. She looks a lot like a pure bread – a Border Collie – but, in fact, she's a stray dog.
She lived on the streets for 3 years.
She had a rather rough life – we couldn't adopt her from the beginning, and then she was so used to being free, having her territory (yes, an alpha female) that she didn't want to be our pet. She wanted to come in the house for a few hours at night, but to still keep her independence and territory.
Back then we were living in a studio (one room apartment) at the ground floor. This meant no balcony and, as we were facing north, not a lot of light – especially with some trees in the garden in front. So you can easily understand why she wanted to keep her street and vast domain.
However, in the third year she was involved in a car accident – hit by a car, thrown into another one. One leg completely broken (she had a similar issue a year before, but she didn't needed surgery). This time, surgery was necessary and the recovery was harder. She survived and kept her mobility. And finally accepted to be taken by us, in that apartment. This was 8 years ago.
This is, shortly presented, Maxie's story. Now, let's see the business lessons 🙂
1. You make the most of any situation
Things won't be easy. Maxie was brought by our apartment building administrator with her brother to be the block's pets. Her brother died within the first year. Maxie came very close to dying as well – she wasn't vaccinated and one day we got home to find her blind, barely moving. We took her to the doctor and he told us that she has 50% chances of surviving the night. She did.
But she was on the streets. She had to fight for food and water – with other dogs and cats. And she made the most of this situation: she became the alpha female.
The lesson: no matter what life throws at you, you deal with it. Instead of being a victim, use the circumstances to reach your full potential. You decide how a situation – and your business – unfolds!
2. You permanently adapt to any situation
One of the keys to a profitable business is adapting to any situation. Take Maxie's example: she adapted from living in the mountains, with her mom, to living with her brother and then alone on the streets. She adapted to the street life, then to living with us in the apartment.
7 years ago, she adapted to Eric (my son) "joining" the family.
5 years ago she adapted to moving to a new place – our home, with a garden. But this meant new territory, new dogs, new hierarchy, etc.
It's the same in business. When I launched my public relations agency, in 2005, Facebook wasn't truly a thing. There was no Like button – if you can imagine that. Today, Facebook is an important part of any communication strategy.
Yes, it's all about adapting to change: using the new (the relevant new as not everything is a good fit). If you get stuck in a moment, you'll eventually lose. And the Facebook part is just a small example. I started locally – then moved to an international market. This meant adapting to other countries' culture, communication tools, and customs. This meant learning about media relations.
Later on, we adapted to the influencers/bloggers trend.
On the coaching side, I adapted to what my clients needed. The programs I have and that I'm creating are aimed at REALLY solving YOUR real problems.
In fact, based on the feedback that I got, I'll launch new programs soon. And I'm working on a few new courses including an SEO course for bloggers and service providers/business owners who have a blog.
The lesson: you need to be flexible. Otherwise, your business may perish. Adapt to all new developments.
3. You partner when needed (for success)
I told you that Maxie was a stray dog. She was brought on the territory controlled by a male. He didn't like other dogs. However, Maxie got under his skin – no, don't think puppies, as Maxie was neutered and never had puppies.
It was just her way of adapting. She partnered with Tyson (the dog I mentioned) and together they were unstoppable.
The same thing goes for businesses. Sometimes, the strength is in numbers. I too partnered in some projects with other companies or freelancers in order to provide the best services to my clients. It was a win-win-win situation – myself, the partner, and the client. And that's all that matters.
When you are launching your business, it's better to work with a business coach who's been where you are. This will help you tremendously – in fact, here's a list of the benefits of working with a business coach.
If you want to see if working with a business coach is what you need, regardless of your business' domain and stage, schedule a Boost Your Business free business coaching session with me. (you can also email me directly at loredana@advancenow.biz)
The lesson: take in consideration partnerships that will allow you to grow your business faster or to offer better services/products to your clients/customers.
4. You become no. 1 and you constantly reaffirm your leader position
Maxie became the Alpha female. The most important female dog in a very large area. She wasn't the only female – and keep in mind that she was neutered as well. But she had agreements with the other female dogs in the area – they had separate areas controlled. They would be able to cross each-others territory, as a way to get to another side, but not to "conquer" it.
Becoming number one is sometimes the easy part. Keeping this statute is the harder one.
You need to constantly reaffirm your leadership.
I remember the first year, the first semester of the faculty. A marketing course. At some point, one student asked why do Coca-Cola and Pepsi have so many marketing campaigns. And the answer was simple: because yes, they are leaders, but if they are not constantly present in the consumer's mind and sight, they'll lose that status of leaders.
This means you need to come up with new ideas, campaigns, to communicate. To be present. Not with value-less content. You need to adapt to your audience.
How did I become number one?
I launched the first website in Romania dedicated to image, communication and public relations for businesses. But my site could have easily disappeared in the 14 years since the launch. However, it's still live. Still growing. It was the same with my travel blogs – I launched, 10 years ago, Travel – Moments in Time and, 5 years ago, Earth's Attractions. And I followed the same strategy for my coaching business – AdvanceNow.Biz.
One of the main success "ingredients" is getting visibility in front of your target audience. With my public relations background, I know for sure that getting visibility is one of the keys to getting more clients faster and easier.
I have helped many clients from different domains and countries across the globe so far in this area. Trust me, being visible makes a huge difference for any business.
This was one of the most searched skills by my clients, so I actually launched:
– Authority Strategy – an online course for those who want to learn everything by themselves – the bonus is one 1-hour session with me, at the end, discussing your visibility strategy (this costs $397 just by itself). The course is perfect for coaches, service provides, course creators, freelancers.
– a 3-month 1-on-1 coaching program where you have my full support, access to videos, constant feedback to help you position yourself as an expert.
The lesson: you need to be visible – or to get visibility for your business/products. You need to become the go-to expert – or to have a top position and to constantly do things that will keep you in the leader position.
5. You make friends
Wherever we go, Maxie makes new friends – both humans and dogs (stray or with owners). When we go to the seaside, we have a preferred beach. There, there are 2 dogs (belonging to someone in the area). While we go off-season to have the beach just for ourselves, the dogs are often times there. Maxie became their friend. And she had the same policy where we were living.
In fact, when we took her in, when we start walking her in the mornings and evenings, we'd meet the human friends she already made on the street. Some had dogs of their own, some didn't. They just liked Maxie:)
The same thing goes for businesses. You need to create a network for yourself. Peers, potential business partners, suppliers, potential clients, and more.
The lesson: you are not the only one in the business environment. Make connections. Create your network.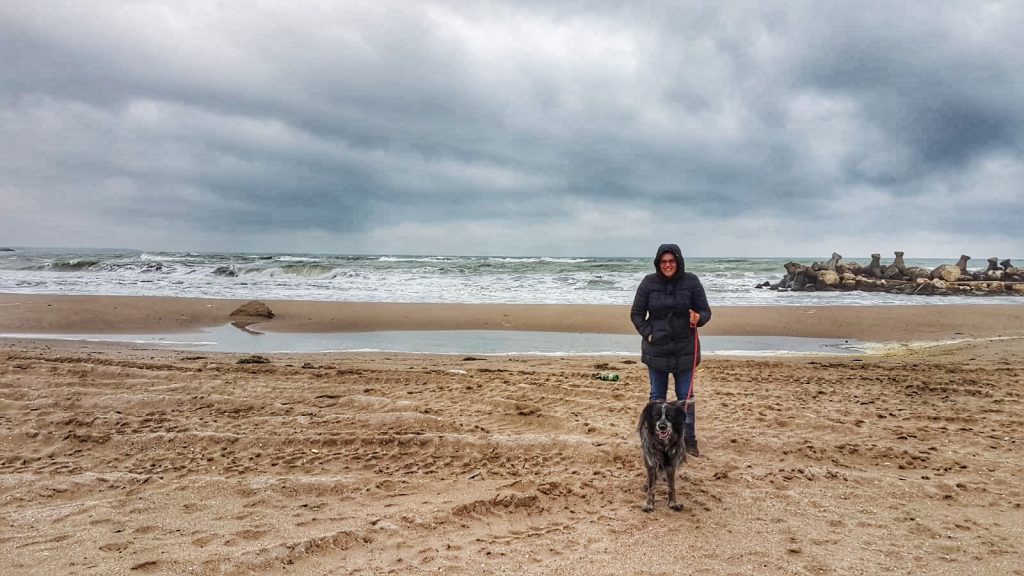 6. You follow your goals and don't rest until you've reached them
No matter what Maxie sets her mind to do, she doesn't give up until she does it. This sometimes means going back a few times to be able to pick something or hunt something. She's focused on a target and that's the only thing that matters at that point.
If you want to have a successful business, you too need to have a clear strategy and to be focused on reaching your goals. Don't get distracted and don't spread yourself too thin. Follow your goals, adapt, and you'll get to where you want to be.
If you need an accountability partner, someone to talk to, to bounce off ideas, to help you get clarity, I am here for you! Get in touch by email at loredana@advancenow.biz or schedule a free coaching session and I'll gladly help you!
The lesson: Focus on your goals!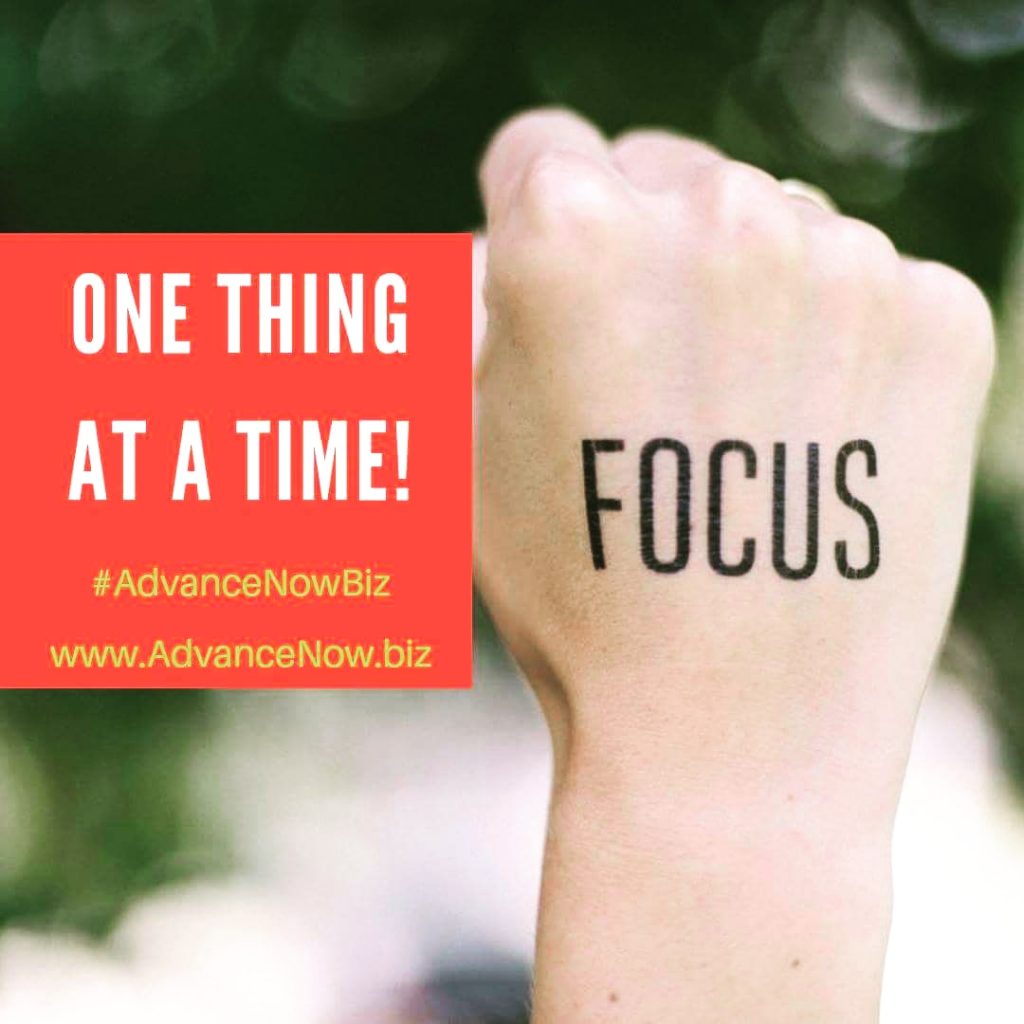 7. You don't give up
Things are always easy on the street. And when you need food or water, not everyone will want to help you. But if you get rejected the first time, try again. The next person may give you something. That's what Maxie did. And she survived.
One of the most important business lessons to learn is that there will be ups and downs in your business as well. And yes, there will be clients who'll say yes from the first minutes of your interaction, and others who won't want to work with you for a variety of reasons. However, don't give up when someone doesn't say yes. It's OK. They weren't a good fit for you. But there are definitely more fish in the pond!
The lesson: persevere! Don't give up. Be a fighter! Follow your dreams.
8. You give 100%
Maxie is loved and respected by people, children, and other dogs. She iss also feared – but, hey, she's a dog:) She always gives 100% in everything she does. From the simple eating to meeting a friend to trying to obtain something from us or exploring a new territory.
You'll have to give your 100% to your business as well, especially in the beginning. This does not mean that you won't have a life or that you can't launch a business in your spare time.
On the contrary!
I believe you can find a perfect balance between your business and personal life – even your job if you have one.
But, when you are doing something, you have to be focused on that task. To be committed. And you'll soon see results!
The lesson: get involved in your business in order to get results. Don't expect things to fall from the sky. Commit and you'll see results!
If you want to launch a business, but don't know where to start and what could be YOUR profitable business idea, here's something that can help you: How to find your $100k business idea in 10 days.
9. You do everything with passion
This is very much connected to the previous business lesson. When you put passion into something it shows. And people appreciate it. And not only people.
Maxie is a great example of putting passion into everything. Yes, she's a dog, but she's truly living each moment to the fullest. As we don't force her to do stuff – aport or commands such as sit, roll over etc. – since we decided to encourage her independence, we have a special relation. And she does what she likes.
When you put passion into what you do you recharge your batteries. You transmit a certain energy – and people sense it. You even make more sales – easier and faster!
The lesson: put passion into your business especially if it's something based on a hobby or your experience, something that you don't plan to sell in 1-2 years.
10. You take care of your own
Maxie would always be there for Tyson, the dog who accepted her on his turf. And he would always be there for her. Because you take care of your own. No matter what. You take risks for them. You play with them. You suffer with them.
As your business grows and you get to have employees or more collaborators, you need to take care of them as well. You need to pay attention to their needs, to listen to them so that they are happy. You'll need to reward those who are with you for a long time and so on and so forth. Your business will thrive. Your employees will praise you. You'll become a wanted employer.
You should also think of your existing clients and make sure you find ways to reward them as well – give them updates to your newest version of a course, give them a discount for a new program/service/product you are launching, etc.
The lesson: never lose sight of your partners, employees, collaborators, current clients.
11. You take care of yourself
Maxie would always sleep in the afternoon for a while. I called it the beauty sleep. No matter what, she'd sleep for one hour (at least).
Because in order for you to be able to give 100% to your business and to have a personal life as well, you need to take care of yourself. It's not selfish – it's mandatory! Otherwise, you risk burnout and depression and nothing comes from that.
This is one of the aspects that many people ignore (unfortunately). And I see so many entrepreneurs failing, getting in a spiral going down and never seeing the light at the end of the tunnel.
It's like in the airplane: in case of emergency, you need to put the oxygen mask on you first in order to be able to help others.
Remember that.
The lesson: take care of yourself in order to avoid burnout and so that you can have a profitable business.
12. It's all about your attitude
Maxie has the attitude of a female alpha 100% of the time. No matter where we go, who we meet (people or dogs), she's the leader.
I admit I didn't know how important your mindset is. But it makes a huge difference, trust me.
I know what it's like for people to look down on you – keep in mind that I launched my company young, at 23, that I'm a woman, that I am from Romania, that I have no connections.
But you have to have the mindset of a winner so that you actually get clients. It doesn't matter what other think, it matters how you act, what you say and do. Bring value to the table, be bullshit free and people will start to appreciate that.
I was often told that my clients chose to work with me because I don't have the sales speech everyone uses. In fact, I don't sell. I offer value. I help. And people told me that they were instantly conquered by my confidence, by my experience, and that when they heard me and interacted with me, they wanted to work with me.
The lesson: have the mindset of a winner. Make sure, through everything you say and do and through the services/products/programs you provide, that people perceive you the way you want them to see you. Make sure you transmit professionalism all the time.
And remember: launching a business doesn't have to be something that breaks your bank. In fact, I shared in this video how you can launch your 6-figure business with just $100.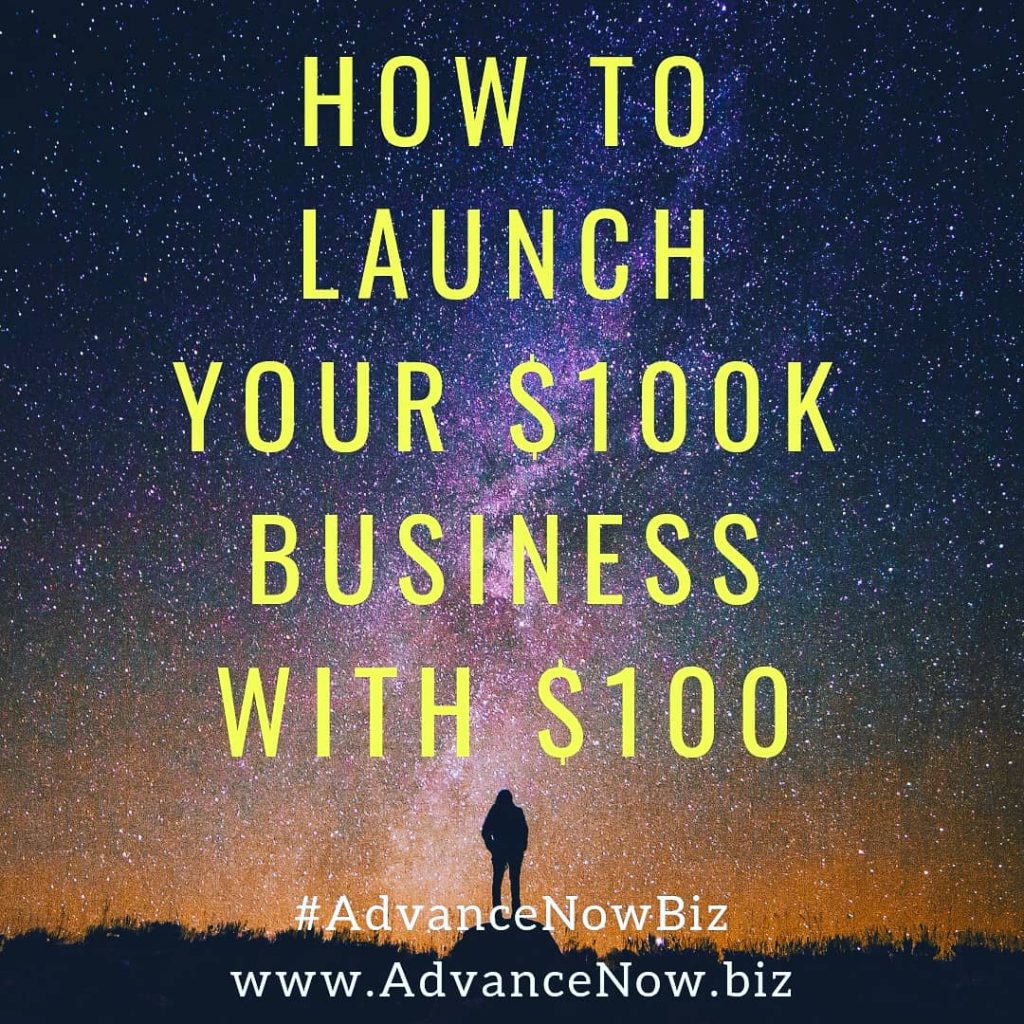 I hope these business lessons will help you and inspire you!