Are you asking yourself if becoming a freelancer or a business owner is right for you? Do you have all these ideas on how your life would be if you would be self employed? Do you envision your business and how many people it could help? Would you like to know the "Signs that you are ready to launch a business or become a freelancer"? Then look no further, I've got you covered!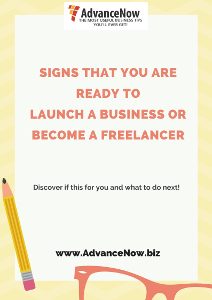 A little bit about my background to see that I know what I'm talking about. I launch my public relations agency 13 years ago. [It seems like a lifetime ago, trust me!] I don't regret taking this step! Not even for a second! It was definitely the right choice for me.
But I am not one of those people who will tell you that you need to launch right now a business no matter what. While there are numerous advantages that I think make everyone flirt with the idea of launching a business or go solo – think more money, the desired lifestyle, no boss, possibility to choose who you work with, etc. – there are definitely some disadvantages as well (stress, more paperwork, etc.).
I do believe however that you can start small – launch your business on your spare time (yes, you can do that). Low cost, almost risk free (meaning, you can use free tools and just pay for your domain and hosting – small investment, right?) But I'm getting ahead of myself!
Because this article is about helping you figuring out if you are ready to become a freelancer or a business owner. Stop asking yourself and know for sure! Take the first step and see where you are. It's so great to get clarity! 
I've put together a cool checklist with the signs that show you if you are heading in the right direction. Download now, free
Pay attention to the welcoming e-mail with your link to the Pdf file – as I've got something special for you in there too! Oh, and it's time sensitive – available March only. And for a limited number of people.
Ups. I already said too much. Go ahead, download with the the checklist with the Signs that you are ready to launch a business or become a freelancer and go from there!