One of the sections of this website will focus on social media – how to use various platforms to promote yourself and your business, no matter how big or small. Social media are here to stay – that's a fact. Why? Because data proves it – so today I'm presenting you some useful social media statistics.
I'll discuss in future articles the need for a social media strategy, what platforms/channels to use, and more, but today, as this is the first article in this category, I decided to include a small infographic compiled by YourEscapeFrom9to5.com that shows the number of monthly users per platform.

As you can easily see, Facebook and YouTube are the most powerful channels, but keep in mind that, when choosing the social media networks to include in your strategy you have to take in consideration numerous factors, not only the number of users a network has. However, almost any business is on Facebook – but I'll talk about this in a later article. Today we stick to the data 😉
Speaking of, I also discovered a very comprehensive analysis by Smart Insights which reveals that Facebook dominates the social media landscape, but which also shows the visitors to the top social media by country: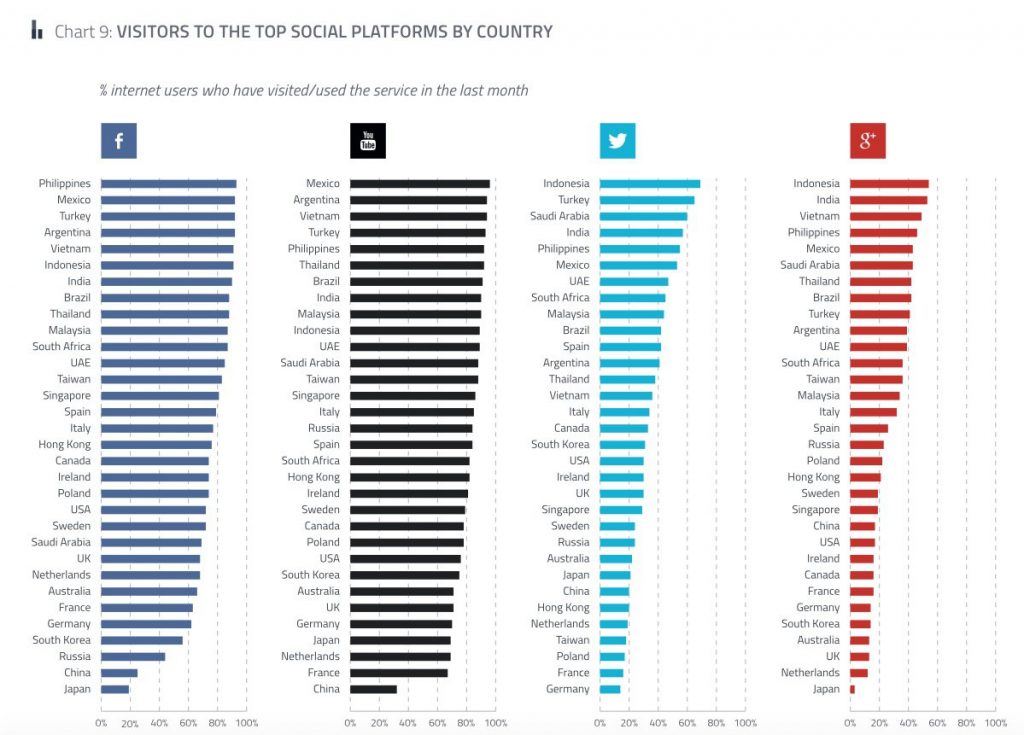 Quite interesting and useful data, right?
Argentina, Mexico, Philippines, and Turkey seem to be among the top 5 countries for Facebook, YouTube, and Twitter.
This top only covers four social media platforms – I cannot wait for a top that includes Pinterest and instagram as well – I'm sure I'll come across one later this year, when more data will be available. However, the current top can give you a glimpse of the countries and continents where social media networks are used the most and this will help you in your overall social media activity – especially if you have multiple audiences spread across the globe.
Anyway, to wrap it up for today: social media are not something new anymore. They are here to stay and, even if, in time, tops will change, new platforms/networks will emerge, the trend is clear: a successful business is present on relevant social media channels where it can interact with its target audience.
Yes, you risk getting negative comments or "gain" trolls. But you can also build an incredible community, get feedback, go beyond just sending a message. It's time consuming, but it can also be fun and useful! Don't forget that!